Get in the know – Periodontal Disease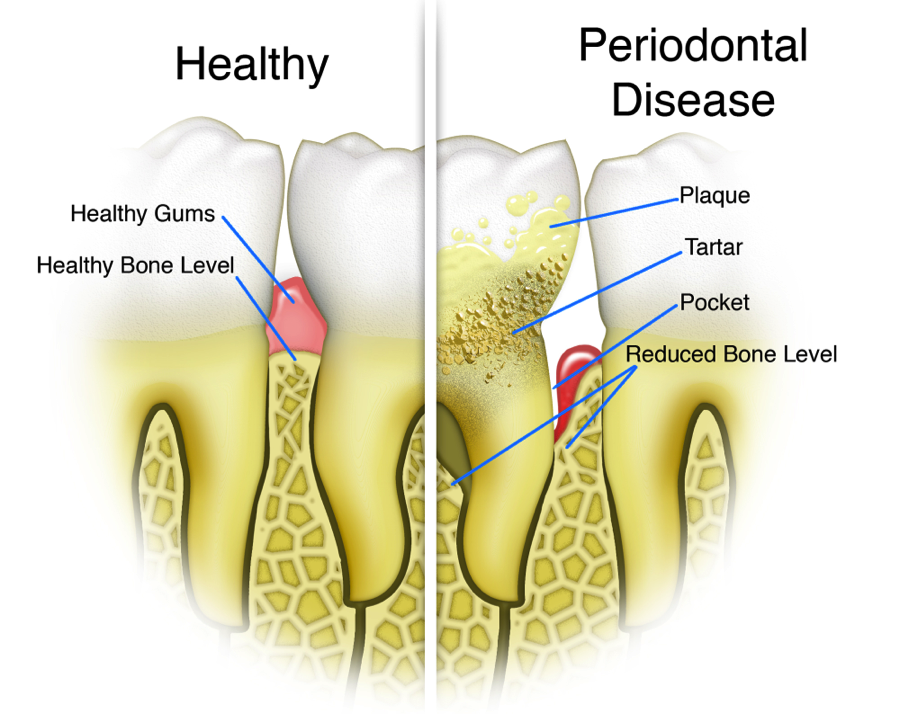 What is Periodontal disease?
'Gum' or periodontal disease has several different levels of progression.
Stage 1: Gingivits – Our mouths are full of a substance called plaque and plaque is a vehicle for a world of bacteria that cause 'gum' disease. Plaque that is not removed during proper brushing and flossing solidifies creating calculus, also known as tartar. Tartar can only be removed professionally by a dentist or hygienist and if it is not removed, gingivitis becomes evident. Classic signs of gingivitis are bleeding, red, swollen gums.
Stage 2: Periodontitis – If gingivitis is not treated, the gingival disease can progress to infection within the structural bone that holds the teeth within the jaw. The bacterium solidified within the tartar begins to infect the tissues surrounding the root of the tooth and progress into the bone. These bacteria then begin to 'eat away' at the bone and it begins to resorb. Periodontal 'pockets' begin to form adjacent to the teeth – if left untreated, the teeth can become mobile and eventually need to be extracted. While gingivitis is easily curable with better oral health, unfortunately, periodontal disease is incurable.
How do I treat periodontal disease? The main goal of periodontal therapy – while we cannot cure the disease, we can maintain it. What this means is we acknowledge the disease, and strive to disable it to progress into an aggressive form.
Deep periodontal scaling– this treatment is where the dentist or hygienist uses cleaning tools to reach the bottom of your periodontal pockets which are measured, wherein removing the destructive bacteria which can progress the disease.
Medicinal Treatment- Medication can be used in conjunction to scaling and root planning (when the hygienist cleans your teeth), but cannot ALWAYS be a substitute for surgery. Depending on the severity of the disease in the patient, surgery may still be suggested.
Surgery – There are several forms of surgical therapy that can be used for periodontal disease which include Flap Surgery, Soft Tissue Grafting and the pinhole technique. Flap surgery involves making incisions by the root surface of the tooth, allowing the periodontist direct access to the pockets, ensuring all tartar is removed. Soft tissue grafting involves transplanting palatal tissue to areas of gingival recession. Pinhole technique involves using specialized tools to correct gingival recession in a non-invasive (most preferred) way.
Your periodontist or dentist will decipher, according to your unique situation, which form of therapy will work best for you.
Periodontal (gum) disease FAQ! Did you know that periodontal disease has been linked to heart disease and diabetes? What most people do not realize, is that ORAL health is linked to overall bodily health – both need to be addressed and kept healthy to live a long and prosperous life.
To learn more about periodontal disease please click on following links: